With the smartLav+ the user simply mounts the microphone on the talent, connects it to a smartphone or tablet headset jack and records via the RØDE App for iOS, or any other audio app of their choice.
The challenge
The smartLav+ is a wearable microphone with a broadcast-grade. Designed for use in television, film, and broadcast scenarios or wherever broadcast quality audio is required.

SmartLav+ is a microphone that comes together with an app. RØDE iOS app has required UI/UX design review, and in some cases, for the regular user, the RØDE app was almost unusable and hard to understand.
My Approach

I worked on updating the existing RØDE iOS application with a new look and feel. I've improved user experience, and the user interface introduced visual changes and ensured my solutions worked seamlessly with the brand guidelines for total consistency.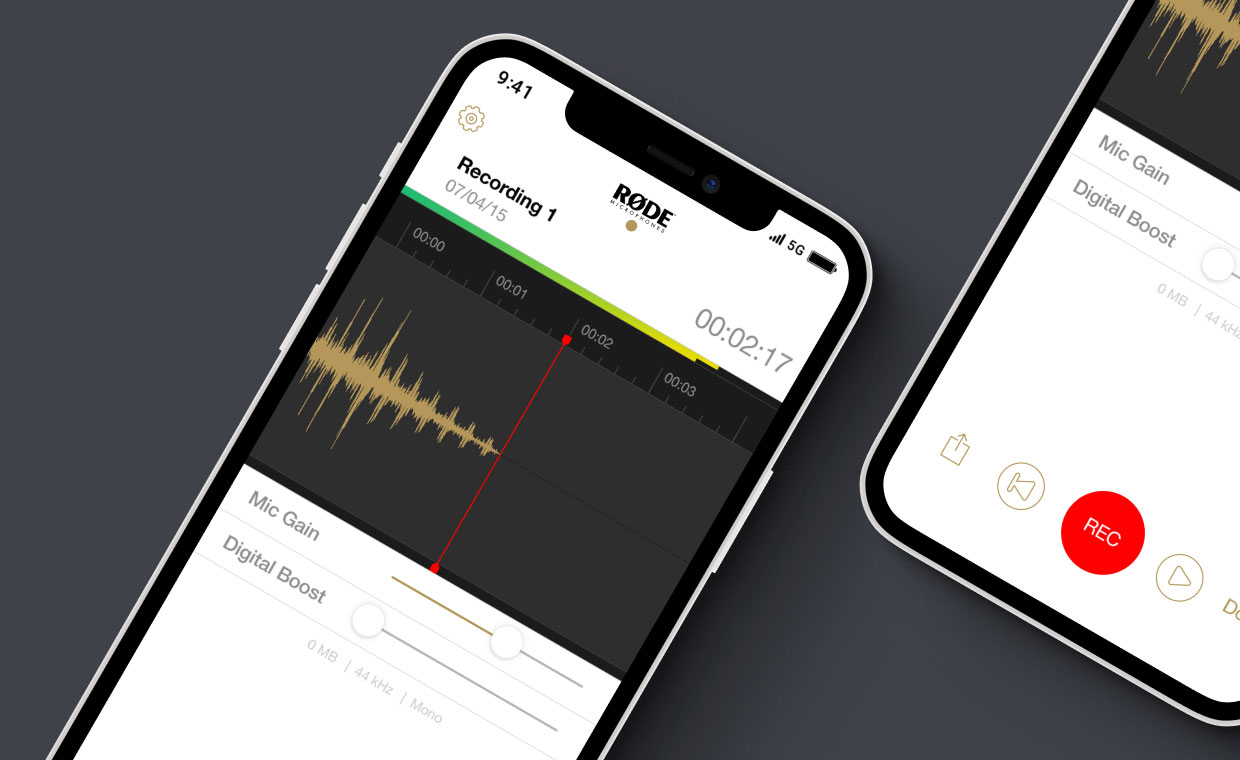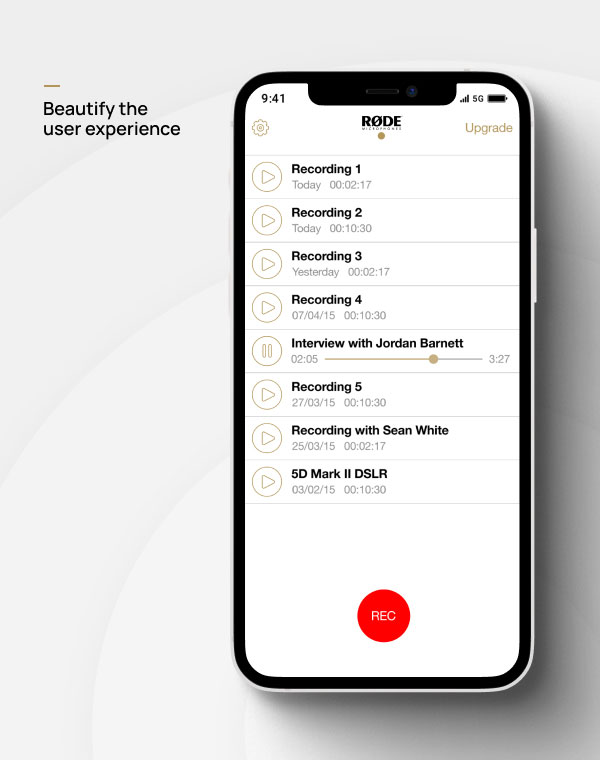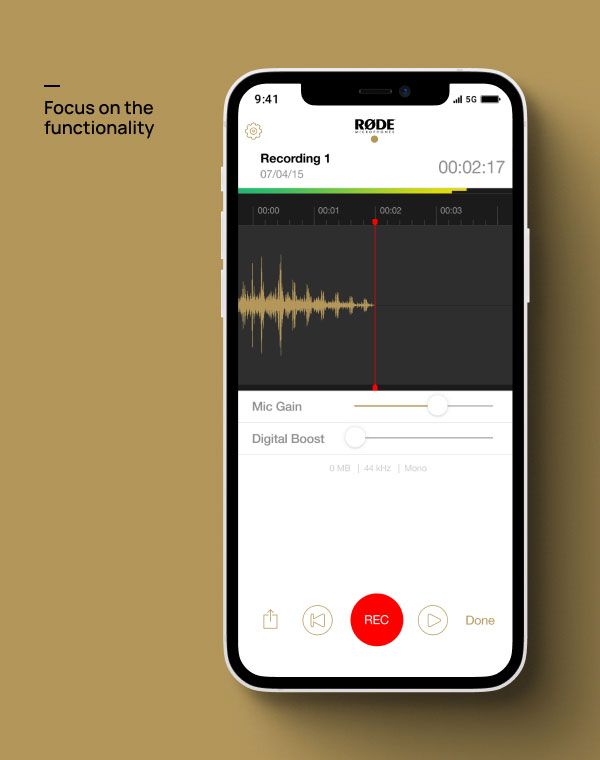 UX audit and research process

This app was required to put it on the next level. So I have provided a complete redesign of the app. I based my design on RØDE Rec LE (iPhone - iOS). During the UI/UX review, I covered problems like outdated user interface, usability problems, and branding inconsistency.

As the first step of the UI/UX audit, I have checked an app for possible user experience (UX) issues and visual UI design inconsistencies. During this stage, I have made some user flow modifications that fixed and reduced the number of links and screens, leading to a better user experience.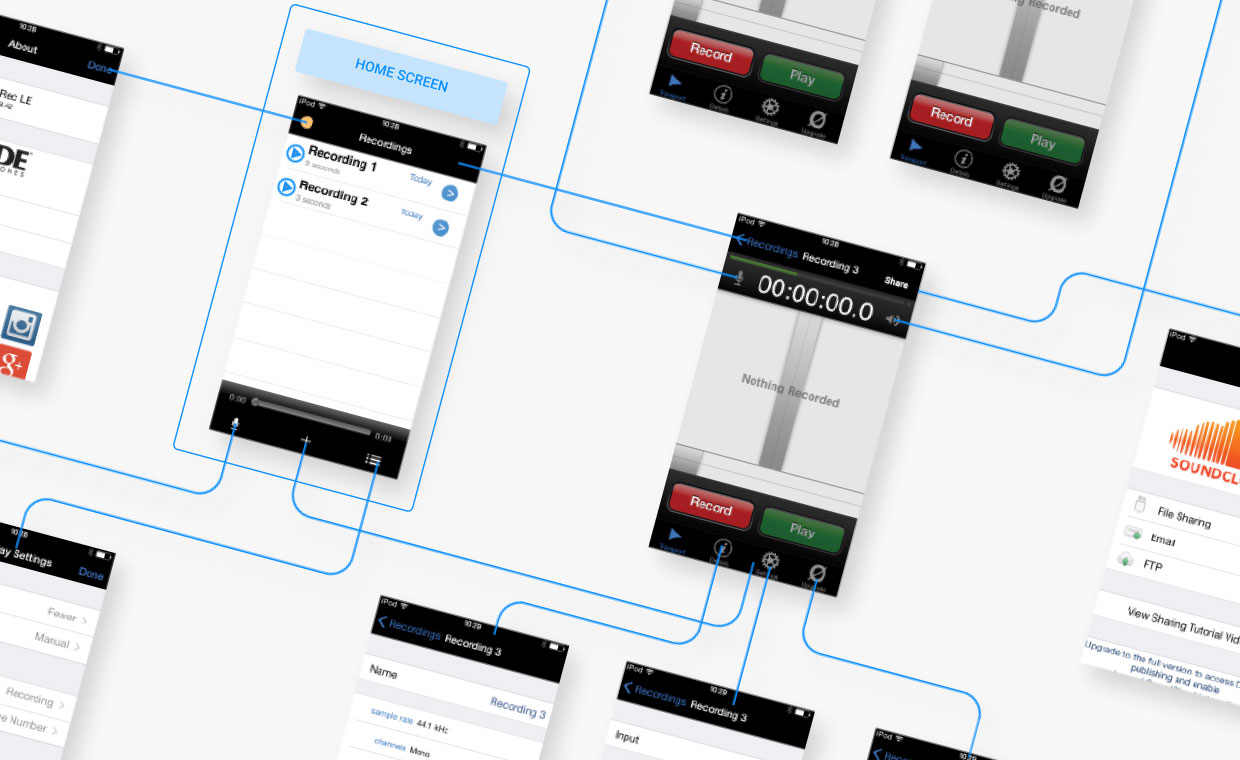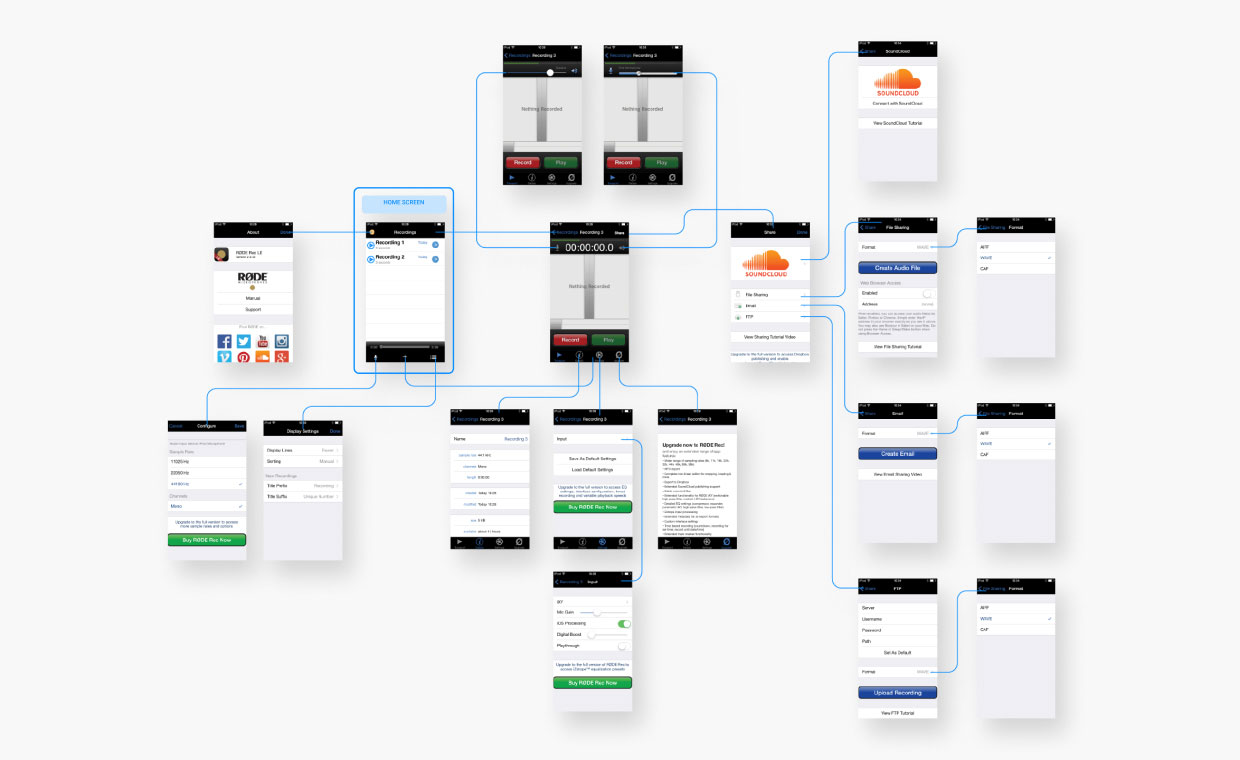 A highly usable, delightful mobile user interface and user experience

Some of the common visual UI issues were related to the icons' unclear selection, some missing action buttons, and design inconsistency that affected the overall look and feel of the mobile app user experience.
‍
I have simplified the recording process and removed unnecessary elements. I have fixed the user interface to align with Apple's iOS - Human Interface Guidelines. Now when a user opens the app for the first time, the user can instantly start recording. All settings are at their fingertips and easily accessible.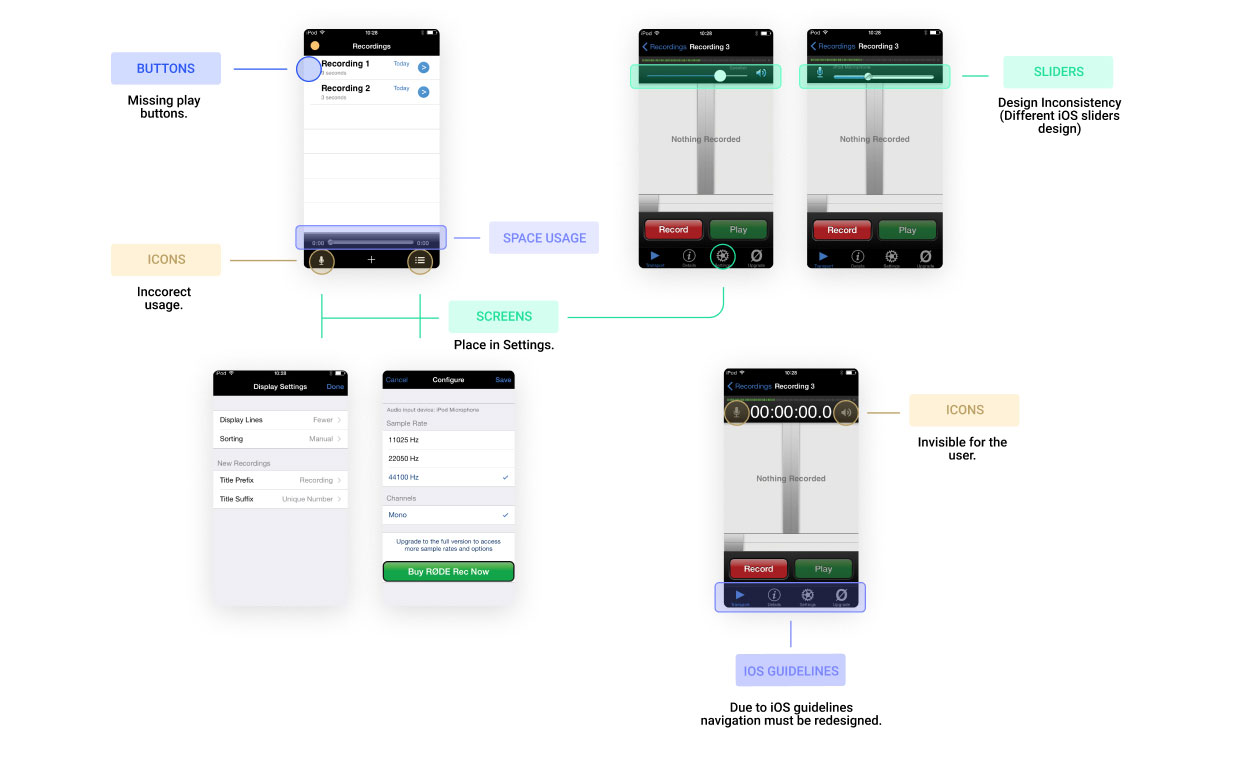 Continuity of existing style direction

Branding is one of the most important aspects of any business. This app was missing much of the RØDE identity. This redesign helped the app to stand out from the crowd and fit into the company's vision.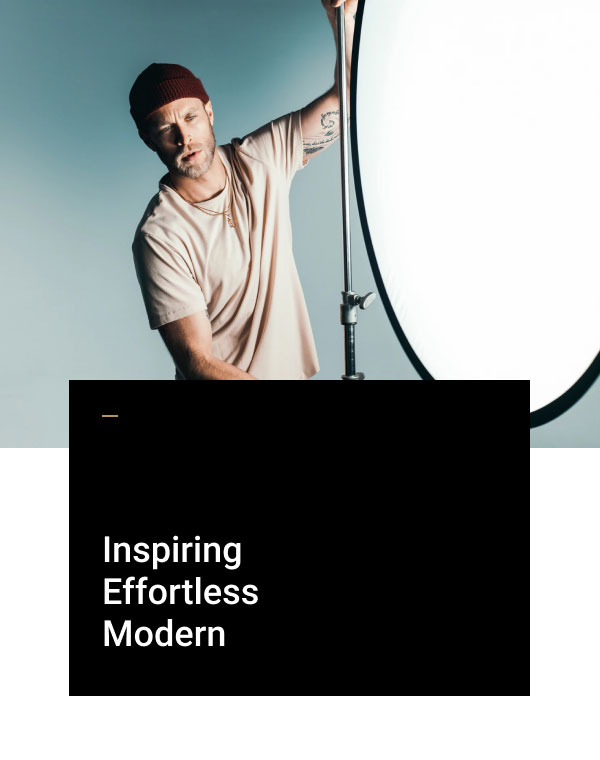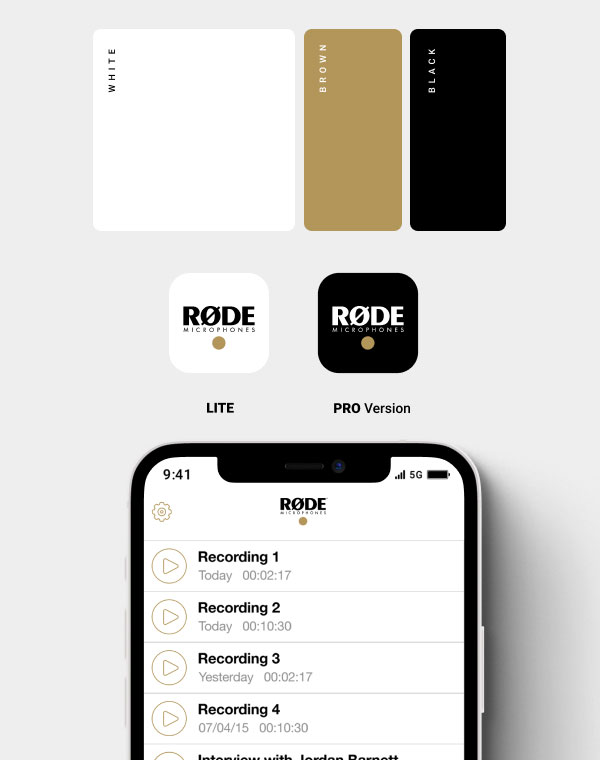 The result

I've been working hard on redesigning one of the voice recording apps. I have made a complete redesign of the UX/UI for this mobile app. During the user experience process, I uncovered problems and tried to solve them successfully.

The idea was to make an app that looks good and performs even better for the user. For this redesign project, I have followed iOS philosophy and guidelines regarding visual design and interactions.